{category.name}
Please note: All items featured in this catalog may not be available in-store, but can be ordered for you. Call or see store for details!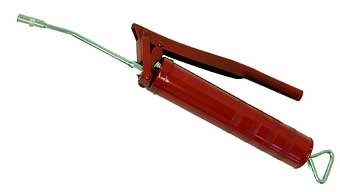 UPC: 015954104193
SKU: 05300028
Model Number: 24835
Hand Operated Lever Style Grease Gun. For delivery of grease in a variety of applications. Features: Red powder coated finish, Maximum pressure 7000 PSI, Rigid pipe included, Holds 14.5 oz. cartridge, 1/8in NPT threads, Delivers 1 oz. per 28 strokes, Multiple loading via cartridge, suction or bulk. Recommended for most greases.
We are constantly adding new specials to our site. Be sure to check back often!
Sign up for exclusive offers, information and updates!