{category.name}
Please note: All items featured in this catalog may not be available in-store, but can be ordered for you. Call or see store for details!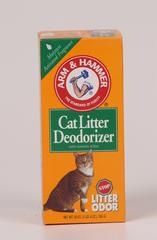 UPC: 000000000000
SKU: 06604270
Arm and Hammer Cat Litter Deodorizer eliminates litter box odors with the power off Baking Soda. The Moisture Activated Fragrance makes it the most popular deodorizing product for cat litter boxes.
We are constantly adding new specials to our site. Be sure to check back often!
Sign up for exclusive offers, information and updates!