{category.name}
Please note: All items featured in this catalog may not be available in-store, but can be ordered for you. Call or see store for details!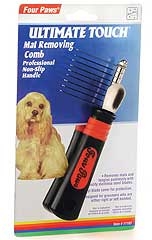 UPC: 000000000000
SKU: 06620978
Four Paws Ultimate Touch Mat Removing Comb has multiple stainless steel blades for quick and easy removal of severe mats and tangles. Blades are reversible so this tool can be used by either left or right handed individuals.
We are constantly adding new specials to our site. Be sure to check back often!
Sign up for exclusive offers, information and updates!