{category.name}
Please note: All items featured in this catalog may not be available in-store, but can be ordered for you. Call or see store for details!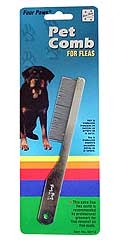 UPC: 000000000000
SKU: 06607861
Model Number: 23027
This extra fine flea comb is recommended by professional groomers for flea removal on fine coats.
We are constantly adding new specials to our site. Be sure to check back often!
Sign up for exclusive offers, information and updates!