{category.name}
Please note: All items featured in this catalog may not be available in-store, but can be ordered for you. Call or see store for details!
UPC: 000000000000
SKU: 50000675
Model Number: 503940
Crack open a bag of Pup-Peroni Original Bacon Recipe dog snacks and watch your Pups come running to the taste of real bacon!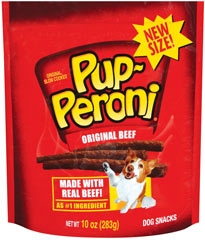 UPC: 000000000000
SKU: 50000674
Model Number: 503920
With more real beef and a mouthwatering aroma, it's no wonder dogs simply can't resist Pup-Peroni Original Beef Recipe dog snacks.
We are constantly adding new specials to our site. Be sure to check back often!
Sign up for exclusive offers, information and updates!