{category.name}
Please note: All items featured in this catalog may not be available in-store, but can be ordered for you. Call or see store for details!
UPC: 757000000000
SKU: 10207922
Model Number: 2750A
Spread any seed or granular material over hilly or wet terrain. Nylon bag with 20lb capacity. Gives a 8-15' spread width. Rocking agitator gives consistent flow to the impellor. Great for grass seed, fertilizer, food plot seed mixes. Easy to use, folds up for easy transport and storage.
UPC: 102058160009
SKU: 10205816
Economical, handheld rotary spreader that uniformly applies lawn fertilizer, grass seed or ice melt. Ideal for small applications. Heavy duty construction. Fully assembled and ready to use.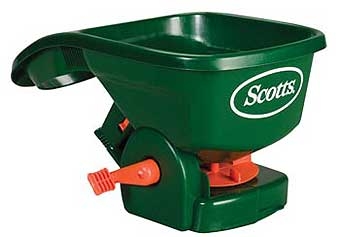 UPC: 102058170008
SKU: 10205817
Provides an exclusive design which reduces wrist fatigue. This ergonomic design causes less wrist fatigue than other hand-held spreaders. It's great for applying lawn seed, fertilizer, and other products on small areas, or for spreading ice melting product in winter. It provides a rustproof, plastic hopper and agitator.
We are constantly adding new specials to our site. Be sure to check back often!
Sign up for exclusive offers, information and updates!