{category.name}
Please note: All items featured in this catalog may not be available in-store, but can be ordered for you. Call or see store for details!
UPC: 000000000000
SKU: 11500004
Non-toxic ice melt is guaranteed safe for pets. Concentrated pellets cover twice the area of rock salt, will not irritate pet's paws or skin, and it works in temperatures as low as 2 degrees F.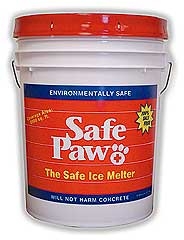 UPC: 000000000000
SKU: 11500282
Finally a safe ice melter for your pet! Chemical ice melters can cause severe burns between the pads on your pet paws. Pets lick their paws to relieve soreness and swallow the poison. Safe paw is non-toxic, won't cause chemical burns, does not injure paws, eyes or skin and will not damage concrete, lawns, asphalt or shoes, yet melts effectively down to 0 degrees F. Contains Carbonyl diamide plus a pet-safe glycol add-mixture. Do not use on concrete less than 12 months old or precast.
We are constantly adding new specials to our site. Be sure to check back often!
Sign up for exclusive offers, information and updates!