{category.name}
Please note: All items featured in this catalog may not be available in-store, but can be ordered for you. Call or see store for details!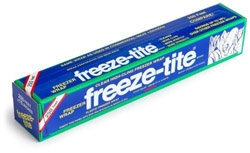 UPC: 077158152509
SKU: 12101124
Freeze-tite Plastic Freezer Wrap, fifteen inches wide to cover the whole dish, 50% Thicker, seals tightly to lock out freezer air. No need for tape or markers as Freeze - Tite is self-sealing, wrapping silver to avoid tarnishing.
UPC: 077158125008
SKU: 12101125
Stretch-tite Premium Plastic Food Wrap, excellent for covering and storing food in the refrigerator or freezer. Polyvinyl Films is the manufacturer of stretch - tite and freeze - tite plastic food and freezer wraps. The line of premium quality plastic wraps is used in both homes and business for a variety of purposes. Premium quality wraps at a great value to our customers is the Polyvinyl Promise.
We are constantly adding new specials to our site. Be sure to check back often!
Sign up for exclusive offers, information and updates!