{category.name}
Please note: All items featured in this catalog may not be available in-store, but can be ordered for you. Call or see store for details!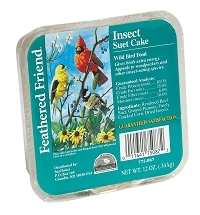 UPC: 000000000000
SKU: 06603807
Model Number: 775087
Gives birds extra energy. Appeals to woodpeckers and other insect-eating species. Ingredients include rendered beef suet, ground peanuts, finely cracked corn, dried insects. 12 oz.
UPC: 748884000000
SKU: 06604781
Made of rendered beef suet, ground peanuts, cracked corn and capsicum pepper. 4 Plugs/PK
We are constantly adding new specials to our site. Be sure to check back often!
Sign up for exclusive offers, information and updates!