{category.name}
Please note: All items featured in this catalog may not be available in-store, but can be ordered for you. Call or see store for details!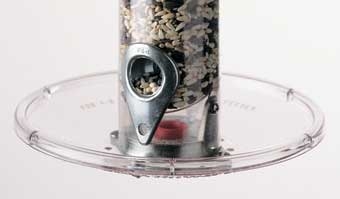 UPC: 000000000000
SKU: 06665298
Model Number: A-6T
7.5 inches in diameter. Attaches with threaded plug to all DROLL YANKEE tube feeders and other brands.
UPC: 026451116121
SKU: 06696752
Model Number: 050
8.5" diameter seed tray, attaches to small, medium and large tube feeders with hardware provided, provides more perching space and also saves seed from being wasted, lifetime guarantee, made in USA. (feeder not included)
UPC: 617000000000
SKU: 10211748
Jumbo Catch Tray is easy to install on any Jumbo Feeder. 9 diameter tray catches seed and keeps seed off ground. Tray has drainage holes built-in. Constructed of durable polycarbonate.
We are constantly adding new specials to our site. Be sure to check back often!
Sign up for exclusive offers, information and updates!